Supporting Parents
Diaper Dust has always been a brand that supports parents.  We don't have all the answers but we want to be a resource to help you find the answers.  As a mom and a business owner, I have had to navigate quite a few new territories.  I relied heavily on resources that taught me how to support my mental health and how to establish and reach parenting goals.
It can be overwhelming to search for the tools that you may be needing and this section will highlight some of the most helpful resources I have come across as a baby product brand, and as a mother!
These community resources help parents feel supported in their parenting journey whether it be their first child, or 10th.
The Prego Expo has in person and virtual events throughout the year that bring experts and families together to learn about the best of the best products and resources for parents!
City Mom Collective provides a positive voice for motherhood by connecting moms to resources and parenting perspectives unique to their communities.  Their support platform is local/regional and easy to join!
 These brands saved our sanity! From convenience to effectiveness, these products have worked overtime to make sure our minds (and backs!) are supported!
Everyone 3 in 1 Soap
I searched and searched for a product like this.  Our son would get red bumbs on the backs of his legs and they would itch like crazy.  He would have trouble sleeping at night, and so would we! We had already switched to a sensitive-skin detergent, and all unscented cleaning products.  Everyone 3 in 1 soap is clean, and made for sensitive skin.  The kicker for us was that it was affordable!  The bottles are HUGE and for only about ~$12. 
We have only used the Lavender scent but the reviews for the others seem comparable.  Its a very light scent that doesn't overpower but I can still tell that he has washed! (iykyk)
You can purchase on Amazon here!
 Boon Drying Lawn
We LOVED getting this drying rack.  It wasn't on our registry but we sure are glad it was purchased for us.  There are so many PARTS that come with bottles:  the bottle, the nipples, the caps, the straws? (Dr. Brown's IYKYK) This drying rack is designed with dozens of low-profile prongs that hold any size item upright.  The water drains into a water tray that is super easy to clean (just rinse!) You can also buy the "Twig" that holds smaller items up above the drying rack to maximize space. 
We loved this product so much, it hasn't left our countertop.  We use it for travel mugs, tumblers, water bottles, and it is especially handy for all the straws (one prong will fit inside the straw to keep it upright) that inevitably come with them. 
We choose to use the Lawn over a towel drying mat simply because the drying mat needs laundered and dried and doesn't hold items in the best position for drying. 
Purchase straight from Amazon here!
Diaper Dust
I, unfortunately, finalized Diaper Dust when my son was transitioning out of stinky diapers.  It absolutely came in handy with pull-ups but this was when I decided I couldn't just sit on this genius product, I had to let other families know about it.  While I was building the business and launching Diaper Dust, I started discovering other ways to use it. 
We would sprinkle it over left-overs we had to throw away and expired food if the bag was only half-full.  I started sprinkling it in the garbage disposal before vacations and into my sneakers before laundering to get that lingering odor out of the soles.  
 BuubiBottle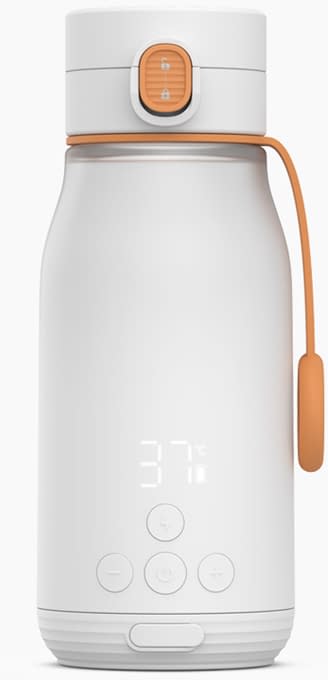 This portable baby warmer is one-of-a-kind.  
 It features versatile smart temperature control to warm milk or water for formula safely and evenly on-the-go. Prepare bottles for your little one at the touch of a button with real-time temperature display, large battery capacity and durable Tritan
TM
 construction. 
Check out the BuubiBottle
here
!
These mobile apps and platforms help parents on-the-go with help when you need it.  
Peanut App
This app makes it easy to find local moms and set  up playdates.  The upside is that it allows you to decide how much you want to interact with others. You can choose that you want to meet new people, ask other moms questions, or share advice from your personal experience. 
 

Medela Family – Baby Tracker

This app is a mommy-brain saver!  

This app acts as a personal helper for pregnant and breastfeeding moms. It provides tracking tools for pregnancy, breastfeeding, breast pumping, diapers and more!


It was the Winner of the Best Baby App of 2022 (Baby Innovation Awards)
Winner of the Parent Tested Parent Approved Seal of Approval.
Silver winner for Best Native Mobile App at the 2021 eHealthcare Leadership Awards.
Winner of the 2022 Social Media and Digital Awards in the Mobile app category